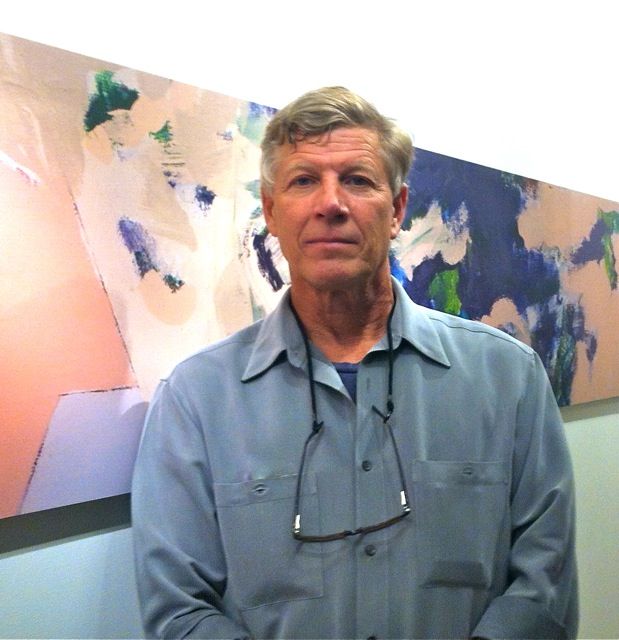 About
Born: October 23, 1953 in Pittsfield, Mass.
Education: BFA, SUNY Purchase, NY 1975
Peter Homestead's paintings are contemplative and exploratory, made of dense overlapping sinuous lines and painted hatched and crosshatched marks. The repeated use of one site and a consistent set of compositional checks and balances create a coherent vision - paintings that radiate a sence of immediacy, excuted at a meditative, fluid tempo and resolved with visceral intensity.
Homested's paintings elicit an encompassing experience of nature. In 2002, a move to a new wooded site in upstate New York with a view of a small duck pond from his studio, inspired the artiist to begin his first series of paintings, after a lifetime making sculpture. The small "duck" forms and other floating hard-edged shapes present in his landscape paintings suggest this background in sculpture. In these works Homestead's vibrant pallette inspired by Matisse, Avery and Klimt, is paired with mysterious dark monoliths reminiscent of DeChirico. They convey a playful discovery of form and an atmospheric sense of depth. Each painting reconciles these disparate influences differently.
The artist's commitment to stretching the line is apparent in his unique incorporation of light, pattern and repitition. Brightly colored dots flow together to enliven the rippling water of the pond while lines swirl upwards into animated trees. His balance of tension and motion brings the landscapes to life, and the specific choice of scene, revisited over and over, imprints a very personal and individual experience on the series.